With summer drawing to a close and my husband once again "lured" into the  traditional one last fishing trip with his long-time fishing buddy, an annual shopping trip for fishing supplies seemed like a fitting way to kiss goodbye to this summer's intensely hot weather—especially so now that our young son seems to be developing more than a passing interest in this venerable Canadian outdoor pastime. The fishing aisle presents a complex array of choices with a staggering range of lures, rods, reels and other tools of the trade promising to attract and catch that ever-elusive Big Kahuna, with packaging naturally playing a big part in drawing the casual fishing enthusiast's attention.
++++++++++
Manufactured by the Collierville, Tenn.-based Strike King Lure Co., the Mini-King Spinnerbait blisterpack certainly does the trick with its vibrant, bold red- and yellow-interlocking logo suggestive of swirling  fish and  hooks locked in an epic underwater tug-of-war projecting  a  sense  of  rugged self-confidence and can-do attitude to inspire even the novice fishermen to get out there and haul in a memorable, selfie-worthy catch to make all their friends fawn in envy and admiration. I especially  appreciate the no-nonsense design of the peg-holed packaging that takes up little space and can be easily stored and recycled after the trip without  leaving a trace of mess behind in the Great Outdoors.
++++++++++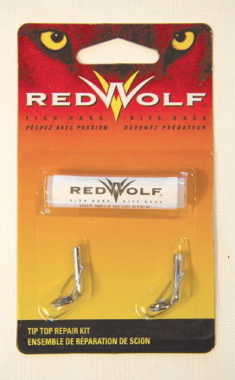 For its part, the Red Wolf Tip Top Repair Kit package from the Roseburg, Ore.-based Red Wolf Tackle Company is a real attention-grabber with its  sharp pair of predatory eyes staring right off the store's peg-rack to  project a slightly menacing intent and an untamed call of the wild. As an extra visual hook, the company's proudly-displayed catchy slogan "fish hard, bite back" provides an amusing juxtaposition with the package's fairly mundane repair kit contents, consisting of a glue stick and a couple of stainless-steel rod pole guide tips.
++++++++++
One close look at the Rattlin' Rapala Sinking lure package makes a convincing case why the Finnish-based Rapala ranks as the world's largest manufacturer of fishing lures—selling more than 20 million of them each year to fishermen in over 140 countries around the globe. Using a highly   practical rigid-plastic case to house its beautifully-constructed, life-like bait fish outfitted with extremely sharp hooks, the package generates a "unique rattle chamber" when shaking it by hand, while the use of different color jewel-colored backgrounds to color-code the multitude of different Rapala brand lures provides an irresistible aesthetic value-added to entice the passing shopper to seal the deal at the shelf level. As the company's raison d'etre statement deftly observes, "That which is irresistible to fish will always be irresistible to the fisherman."
++++++++++
As for purely charming and adorable cross-generational appeal, the Shakespeare's Disney Fairies Fishing Kit nails it down-pat with a vivid image of a slightly mischievous TinkerBell with her right hand positioned so that you might just believe—if you're young and impressionable enough—that she is holding the fishing rod out for you. The durable, flexible plastic board panel has the lightweight toy rod securely fastened into place with several plastic ties—firmly protecting the contraption from over-eager young hands—and the dazzling graphic imagery of the backing  panel had our young son literally hooked and reeled in at first sight.
Julie Saunders is a healthcare communications specialist living in Toronto.
Image at top purchased via www.thinkstock.com.