Late fall is one of my favorite times of the year. With leaves turning golden and red, temperatures starting to cool down, and live football back on television all weekend long, every weekend, I get all worked up about my annual pilgrimage down south to South Bend, Ind., to cheer on my beloved Fighting Irish of the University of Notre Dame, despite this already turning into one of their worst seasons on record. While Canadian fans of the National Football League have at least passing knowledge of the great American pre-game tradition called tailgating, they may be less familiar with the U.S. college football tailgating rituals, which are every bit as intense, memorable and over-the-top. By continually refining my own tailgating game over the years, I have gradually developed a deep appreciation for coming across various new packaging innovations that help make my journey to South Bend a more enjoyable road trip each time out.
++++++++++
As many a trucker worth his salt will tell you, no road trip is complete without beef jerky—a handy, tasty, lightweight snack that is easy to munch on while driving and keeping focused on the road ahead. As one of my recent roadside discoveries, the KRAVE brand meat jerkies really propel dehydrated meat chunk to a whole new level of snacking indulgence. Produced for KRAVE Pure Foods, Inc. of Sonoma, Ca., these tasty bits of meaty chewy perfection eschew the traditional cowboy western-themed jerky packaging for sophisticated, stylized fonts that match the company's novel new take on flavors with some distinctly offbeat packaging colors. Hence, lime green for the resealable 75-gram plastic pouch of the Chili Lime Beef flavor (see picture), a purple hue for the Black Cherry Barbeque Pork, and so on. In a commendable effort to lighten up on the guilt factor, the brand cleverly repositions the snack as a science-based health food by using a stylized loo of an athlete in motion, supported by other quirky illustrations and cheeky slogans such as "Like trail mix, only meatier" and "Carnivores have more fun." Couldn't have said it better myself!
++++++++++


Dill pickles are a great tailgate lunch addition, but making room in the cooler for a big jar of pickles isn't easy, and carting an open, half empty jar back home across the U.S.-Canada border is an invitation to trouble with a picky border-crossing officials who may have their own interpretations of what constitutes a proper legal definition of a vegetable. So may cheers then to the Waterloo, Wis.-based Van Holten Foods for making dill pickles a portable single-serving traveling companion by packing a single large pickle into a easy-to-tear, clear stand-up pouch with just enough brine in it to cover the product without making a mess of things. Requiring no refrigeration, the pouches are rigid enough to avoid accidental punctures and leaks, making them a great option to throw into the kids' lunch bags on their way to school. Jerky and pickles: the gluten-free, low-fat snacks of the champions!
++++++++++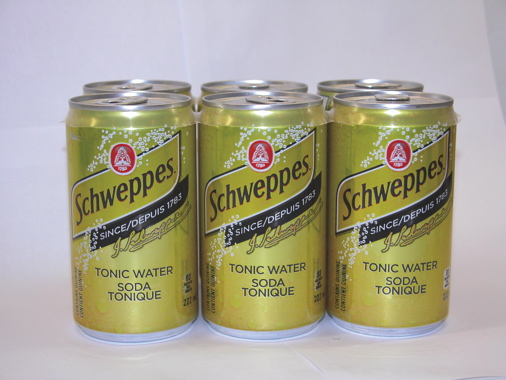 The extra space freed up in my cooler by the aforementioned pickle packages has actually enabled me to throw in a perfectly-sized six-pack of mix to enable me to enjoy a perfectly balanced gin-and-tonic, or three, just prior to kickoff. As a purist who insists on a classic "one part gin, three parts tonic" recipe, I often used to end up with a fair bit of tonic water going to waste with the traditional 355-ml cans of the Schweppes Tonic Water brand marketed by the Waterloo, Ont.-based Canada Dry Mott's Inc. No such problem with the new 222-ml mini-cans of the iconic brand, still sporting the distinct yellow brand colors that make it so easy to pick out from the sea of soft-drink options crowding the supermarket shelves these days. The smaller, more slender can design is not only a great space-saver, but is also easier to grip and provides a sensible portion control option for people consuming a lot of softdrinks over the course of a day.
++++++++++


College football aside, one of the late fall's other great pleasures is the opportunity to settle into slow cooked comfort food dinners. One of my favorite indulgences is risotto, but I often have trouble getting the ingredient proportions just right. So I was pleased to find the Sarafino Porcini Mushroom Risotto brand side-dish, authentically produced in Italy by Elgaviva di Monsini Valeria. Offered in several flavor varieties containing just the right amounts of rice and seasoning, one only needs to add the required amount of stock to create an upscale risotto dish that hits all the right notes on a cold crisp evening at dinner time. As a vocal critic of overpackaging things just for the sake of it, I also appreciate the use of a peg-holed cardboard sleeve that doubles as a product label and as a sturdy, stand-up overwrap to provide sufficient protection for the 216-gram bags of ingredients contained within the panels. Elegant in its rustic simplicity, the front panel's muted colours and illustrated crest logo strongly evoke the Old World Italy by aesthetically mirroring the hearty, simple ingredients of the product, while the straightforward, easy-to-follow instructions printed on the back make this product a trusty staple of my late fall seasonal dinner planning.
Rachel Horvath is senior vice-president of television production at Lone Eagle Entertainment Ltd., a Toronto-based company currently producing the hit Food Network Canada show You Gotta Eat Here!