Dried packaged soups have long sent the benchmark for consumer convenience and portability with their lightweight, yet crush-resistant bowl containers and easy-peel foil lids that just left consumers with the easy task of adding some hot water into the mix to enjoy a quick and fairly nutritious pick-me-up.
With imitation being flattery in disguise, cereal king Kellogg Canada Inc. has belatedly picked up on this deft packaging idea for some of its popular brands. It's a great update on the company's original singleserving Snack Pack paperboard boxes that just did not feel right to use as serving bowls, despite the company going out of its way to get the idea across with diecut box perforations and waxed paper liner inside the cartons. With the switch to plastic bowl-type containers, the company's iconic Tony the Tiger and Snap, Crackle and Pop mascots are once again given the graphic prominence they deserve on the colorful 55-gram single-serve bowls of Frosted Flakes and Rice Krispies that also provide parents with useful portion-control discipline for their kids' breakfast-on-the-go.
++++++++++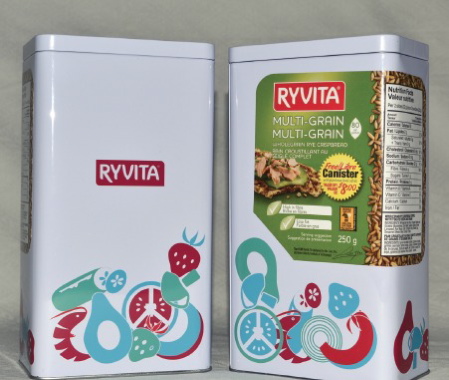 Delicate crispy products like the Ryvita brand crispbreads, produced by the U.K.-based Jordans & Ryvita Company, Ltd., naturally can use all the product protection they can get while they make their way though the value chain and onto the store-shelf in one piece, as were. And it's a big credit to the company's thoughtfulness to extend that protection into the consumers' kitchens with the offer of a free rigid canister with a purchase of its popular Ryvita Multi-Grain Wholegrain Rye Crispbread soft-packs to keep them from getting crushed after purchase. With its uncluttered white background providing a soothing backdrop for the brand's cheerful red-and-white logo and graphic splashes of serving suggestions near the bottom, the elegant canister is a picture of refined understatement that also provides good functionality with its slide-in lid design to create an air-tight seal for the leftover biscuits inside.
++++++++++


A recent burger-and-fries takeout led to a chance discovery of a Heinz Megapack 26-ml sachet of ketchup that, as the pack proudly proclaims on the back, offers "3x more ketchup than our 8-ml ketchup packet." While the math is technically slightly off, there is no doubting the fact that the new square-shaped packet uses considerably less plastic to make than three small rectangular packets that never actually contain enough ketchup per pack to take care of a full serving of fries—often resulting in unintentional food waste on top or the discarded plastic destined for the landfill. Hopefully, relish and mustard suppliers will be quick to catch on to this commendable and long overdue packaging upgrade in the foodservice arena.
++++++++++


Olives have traditionally been thought of as an adult snack indulgence, but the Bolton, Ont.-based Sardo Foods is clearly aiming to clear up that misconception with the new singleserve, 90-gram brine-free packs of Li'l Oliver Pitted Black Olives featuring a charming, lip-smacking brand mascot that looks like a distant green cousin of the better-known M&M's candy brand icons. With only 20 calories per serving and no gluten, cholesterol, transfats or saturated fats to worry about, Canadian moms may well have a healthy new option to consider for their kids' lunchboxes to help cultivate the tastes of younger next-generation consumers.
++++++++++


It would have been so easy for General Mills Canada Corporation to simply use one of its existing cereals to ride the wave of the Batman v Superman: Dawn of Justice Hollywood blockbuster all the way to the bank, but that simply wouldn't do justice to two of the world's most popular superheroes of all time. Instead, the company actually created a new Chocolate Strawberry Cereal for the Batman crowd and the Caramel Crunch Cereal for Superman fans—with both "Collector's Edition" boxes superbly decorated with the stylized letter S and f lying bat graphics set against the darkly-patterned, textured backdrops of well-toned pecs and six-pack abs to stage a breakfast-time food fight for the ages.
Rhea Gordon is a freelance writer living in Toronto. This article can be found in the April 2016 print edition of Canadian Packaging magazine.