At first glance, this box of made-in-Portugal Sardinhas de Chocolate (Chocolate Sardines) Sardines from MySugar, Lda could fool anyone. Featuring a cartoonish drawing of a woman carrying a platter of fish on her head—framed in the vibrant red, green and gold-colored outlines borrowed from Portugal's national flag, the eye-catching box also boasts a deftly-depicted cutout at the top end mimicking a partially-opened can lid to reveal three life-like silvery fish-heads peeking out of the can. With a montage of yellow fish scales filling in the background of the front panel, most people will instinctively assume they are in fact looking at a can of sardines—one of the country's most poplar seafood staples—especially when reinforced with a tactile rough finish of the crinkled surface intended to imitate fish skin and scales.

While it's a very witty attempt to project the country's long-enduring passion for seafood in general, and sardines in particular, one has to wonder if it's almost too clever for its own good by unintentionally putting off the more impatient chocolate lovers with all this abundance of fish imagery, along with the longing stare of the make-believe fish-heads' eyeballs. That said, those who get the joke would certainly appreciate the delicious sardine-shaped chocolate treats packed inside the box, along with the design's charming sense of humor.
++++++++++
Long before mail and courier services introduced pre-printed, self-sealing boxes and bags, mail-delivered parcels used to look very much like this bar of soap produced by Castelbel S.A. in Castêlo da Maia, Portugal.
Packaged in brown paper wrapping that instantly takes the shopper into a bygone era, the 200-gram Lemon & Basil Fragrance Soap Bar pays playful homage to snail mail's glory days through cunning attention to packaging detail. The address space has the fragrance name, contents, company name and weight printed in a retro font once found on many manual typewriters, while the faux postage stamps in the top-right coroner display the soap's botanical ingredients in their natural state, with the product weight subbing in for the cost of the stamp in both metric and imperial units. Images of two classic Republic Française postage stamps are positioned at a slight angle to the left of the front panel, with faithfully replicated postmarks and a trilingual Par Avion sticker completing the remarkable throwback design. As a final flourish, the red-white-and-blue twisted string knotted up strategically between the two French stamp images pays a glorieux tribute to the product's distinctly Francophile inspiration. A brilliant way of making everything old look new again!
++++++++++
Looking at the liverwurst-inspired package of Dick Van Patten's Natural Balance Dog Food Rolls brings to mind a slew of comical possibilities about a midnight fridge raid going wrong. Thankfully, the bright blue color used for the plastic casing of the one-pound roll is rarely used for foods meant for human consumption, which should alleviate the risk of possible confusion. That said, the high-quality ingredients containing duck and turkey meat—accented with cranberries and apples—clearly suggest that this is no ordinary dog food. Not containing any corn, soy, wheat, sodium nitrate, or artificial flavors and colors found in most conventional mass-produced pet foods, the product is made by the Burbank, Ca.-based Dick Van Patten's Natural Balance Pet Foods—founded by the well-known, prolific Hollywood actor Dick Van Patten. Probably best remembered as a family patriarch in the 1970s hit series Eight is Enough, Van Patten was a deeply committed animal welfare advocate who is credited with founding the National Guide Dog Month back in 2008, among his other notable endeavors. Curiously, there is not a single image of a dog to be found anywhere on the package. Instead, you get a lovely vista view of a green forest surrounding a majestic snow-covered mountain in the center of the roll on the front, and a wealth of useful product information and preparation instructions on the back, along with a feeding guide per dog size and tips on dog training and rewards. Tellingly, the product is pricier per gram than real liverwurst made for human consumption.
++++++++++
Grabbing a cold brew has a whole new meaning to it thanks to the creative minds at the Toronto-based Station Cold Brew Coffee Company. If packaging their flagship black unsweetened brewed coffee in the retro 375-ml vintage stubby glass bottles with a twist-top beer cap was not enough, then putting their Nitro New Orleans style coffee into a vintage craft-beer can speaks volumes about the company's uncanny knack for effective product differentiation on the store-shelves.
++++++++++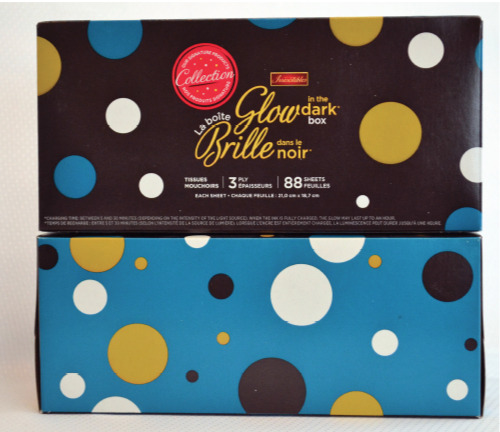 One would thank that something as simple as a box of paper tissues hardly warrants the inclusion of product instructions, but the Glow in the Dark Box of tissues of the Irresistibles store brand of grocery giant Metro is not your ordinary tissue box. Produced in Canada by the WestRock Company, the box is decorated with various-sized blue, black, gold and white polka dots that not only look attractive on their own, but also activate the white dots to literally glow in the dark thanks to an application of special luminescent ink that, depending on the intensity of the light source, cause the white dots to charge up in five to 30 minutes—maintaining the glow for up to an hour. As far as bright packaging ideas go, this one has all the angles covered in spades.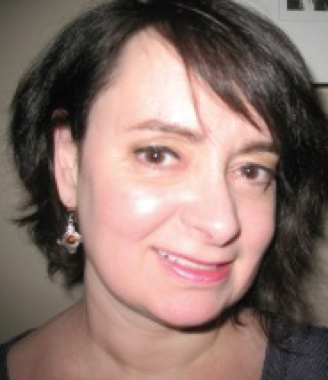 Rhea Gordon is a freelance writer living in Toronto.