It looks great and it tastes great, too.
Maple Leaf has been feeding Canadians for over 100 years and has recently launched a new line of artisanal craft meats called Maple Leaf Canadian Craft.
The line is meant to appeal to the foodie shopper… someone who wants to cook at home or try foods they might not be completely familiar with, and want to know where the food comes from. This line should justr about cover it.
The roster of specialty meats inspired by "iconic Canadian flavors" includes:
Atlantic Coarse Salt Prosciutto Full Piece and Sliced;
Canadian Whisky and Apple Bacon;
Montreal Steak Spice Capicollo Full Piece and Sliced;
Montreal Style Smoked Meat Wieners;
Okanagan Inspired Garlic & Herb Salami Full Piece and Sliced;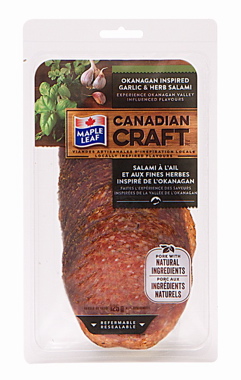 Ontario Inspired Cherrywood Smoked Ham Full Piece and Sliced;
Quebec Maple Ham Full Piece and Sliced
Maple Leaf said it is teaming with local suppliers for its ingredients, such as whisky and Atlantic salt from Nova Scotia and maple syrup from Quebec.
The new products are available at all major retailers across Canada.
Company information available at www.mapleleaf.com.