Leaders of the pack
Montreal label producer blossoming into an industry powerhouse through assertive acquisition strategy and firm focus on customer service excellence
---
November 26, 2018
George Guidoni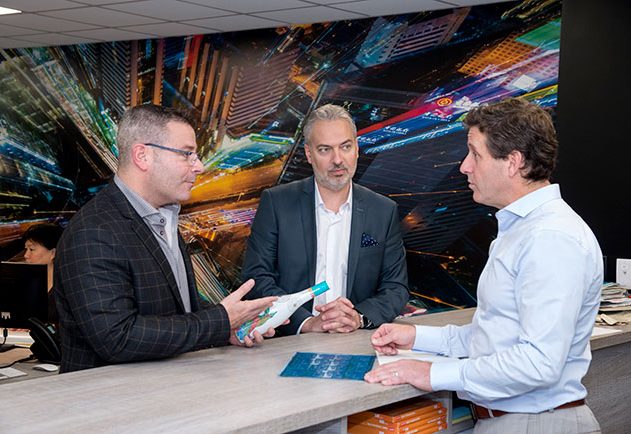 If bottom-line results and market share growth are a true measure of progressive corporate leadership, then Stephen Bouchard may well be the proverbial lion among men in today's highly fragmented North American label manufacturing industry.
As president of fast-growing Montreal-headquartered labeling and flexible packaging converter Labelink, the high-energy native of Montreal has already executed more successful buyouts and acquisitions in the last 14 years than many other captains of industry pull off in their entire careers.
Based on his solid track record of growth and a confidently buoyant outlook for the future, it's fair to say that Bouchard is really just getting started in his quest to make Labelink one of
the industry's pre-eminent players and innovators.
According to Bouchard, the company's assertive growth strategy can be traced right back to 2004, when he and two colleagues working at a Quebec-based commercial printer pulled their resources to purchase Labelink Products Inc., a small family-owned Toronto manufacturer of pressure-sensitive labels that was essentially just getting by on a day-to-day basis without much ambition to grow outside of its established comfort zone and a fairly narrow client base.
"The company was operating out of a tiny 2,500-square-foot facility employing seven people—including myself and the two other partners," recalls Bouchard.
"It was a very modest start," says Bouchard, "but I was always attracted to the label industry because for the most part it's almost a recession-proof business.
"Good economy or bad, people always need to eat and look after themselves with healthcare products, so there is always an underlying demand for labels for those products.
"It is also a very creative industry to be in," Bouchard told Canadian Packaging in a recent interview.
"At the same time, we noticed that it was in many ways still a very old-school type of business dominated by a lot of mom-and-pop type shops that may have been good at printing labels, but lacked the necessary management skills to grow their business further in a meaningful way.
"We saw an opportunity in that," says Bouchard, who currently owns a 45-per cent share in Labelink, with co-founder Bill McDougall owning 10 per cent and Toronto-based investment fund Parkview Capital Partners owning the remaining shares.
"They are the all-important 'silent partner' who made some of our bigger acquisitions possible," Bouchard relates.
After acquiring Montreal-based label converter RTM in 2006 and weathering the Great Recession economic downturn later in the decade, Labelink got back into the acquisition game in a big way—acquiring Toronto-based Image Label in 2011 and Labelad, also of Toronto, in the following year.
After a successful integration of the assets into the growing Labelink family, the company acquired Montreal-based Flexo Label in 2016, accompanied by the opening of its first satellite production facility in Quebec City.
This past summer, Labelink completed its biggest and most far-reaching deal to date with the purchase of well-established shrinksleeve labeling specialists Safety Seal Plastic Inc. of Guelph, Ont., along with its U.S. subsidiary Safety Seal Plastic LLC, based in Fredericksburg, Va.
Bouchard says this latest acquisition has allowed Labelink to achieve an important strategic objective of expanding into the U.S. market and make further headway in realizing his vision of creating a well-integrated network of highly specialized "satellite" plants to produce labeling and flexible packaging products for a vastly expanded client base across North America.
Nowadays serving clients in the food-and-beverage, pharmaceutical, nutraceutical, health-and-beauty, cosmetic, chemical and industrial sectors, the five-plant enterprise offer more than 100 different stock products that range from thermaltransfer labels to shrinksleeves, flexible packaging, including finished stand-up pouches, and RFID (radio frequency identification) tags.
"We are now the largest narrow-web printer in Quebec and one of the top five in Canada," Bouchard points out, citing strong annual revenue growth that is fast approaching the $50-million benchmark.
"We now have a combined workforce of about 170 employees, 20 printing presses and five plants to provide our clients with superior customer service and outstanding high-quality products," says Bouchard, clearly excited about the many new business opportunities opened up through Safety Seal acquisition.
"We were already printing shrinksleeves at our other facilities," he reveals, "but we were never really an expert in the shrinksleeve segment—it was just a small part of our overall pressure-sensitive label business.
"Having Safety Seal's shrinksleeving expertise as part of our portfolio is already yielding a major positive impact on our business," he extols.
"Our business model is based on providing customers with 'excellence-plus,' which is to say that we want to be leading experts in providing our customers with unbeatable service from our strategically-located satellite plants," Bouchard explains.
"We realized some time ago that you can't be an expert at everything," notes Bouchard, saying that trying to be all things to all people had detrimental affect on overall levels of product and service quality.
"The Safety Seal acquisition has allowed us to create a true center of excellence in shrinksleeves," he says, "which will make a real difference for our customers.
"It really is the most strategically important move we have made to date.
"Being average at everything and excellent at nothing is not what we have in mind to grow our business going forward," he states. "Customers want excellence, and it's important for us to meet those expectations.
"With Safety Seal's customer base and technical expertise in hand, we can do that much more effectively than ever before," says Bouchard, saying the growth in the shrinksleeve labeling market is notably outpacing
growth in other self-adhesive segments.
"We are approaching about $15 million in sales for our shrinksleeve business," he says, "or about a third of our business."
"There is also an attractive sustainability benefit in shrinksleeves because there are no adhesives or liners used in the shrinksleeve labeling process," Bouchard adds.
As Bouchard relates, the company has a very proactive mindset when it comes to capital investment, saying it is currently awaiting arrival of several new printing presses in the near future.
In the meantime, it is constantly working to optimize the performance of its existing arsenal of narrow-web flexographic presses, primarily the Mark Andy and Bobst brand systems, and the new-generation HP Indigo digital printing press technologies.
While the company can produce labels for just about any mainstream consumer market, "We are particularly pleased to be serving the pharmaceutical industry," Bouchard points out.
"It's a market that requires a very rigorous product process and discipline," he explains, "and we are certified to the highest standards required for pharmaceutical processing.
"We are in fact one of very few printers in Canada that can serve this market," adds Bouchard, citing widespread use of Labelink-made labels on a diverse range of products such as vitamins and nutraceuticals, nutritional supplements and many over-the-counter products.
Bouchard says the company's technical prowess perfectly complements its progressive corporate culture based on five core values of collaboration, commitment, fun, passion and pride.
As the company's official mission statement proclaims, "We want to be recognized in the industry as the most effective packaging components printer, offering a premium product and difficult-to-match flexibility."
Says Bouchard: "We are pursing our satellite plant strategy as part of our ultimate goal to become the 'convenience stores' for packaging components.
"Entering the U.S. market had taught us a few things about how doing business in the U.S. is different there from Canada, with its various interprovincial barriers," he says, "so we are are keen to expand our presence there by building up a network of brokers to reach out to our established and perspective customers across a broader geographic reach.
"It's looking very promising already."
Because recent technological advances in the printing press industry have essentially put most of the leading printers on a level playing filed in terms of product quality and process efficiency, maintaining a competitive advantage for companies like Labelink in the future will be determined on the service side of the business, according to Bouchard.
"What makes us different in the narrow-web world is our use of ERP (enterprise resource planning) systems to help our customers manage their business better," he states.
"A customer who has 1,000 SKUs (stock-keeping units) may be placing 4,000 to 5,000 orders for labels each year," Bouchard explains, "so having a proper procurement systems in place becomes very important.
"It's a bit of a paradox that while the labels themselves are not that expensive, they are the item that causes our customers the most issues, due to the fact that there are so many of them and with so many variations," he says.
"That's why we are investing a lot of capital and time in developing our ERP systems, company-wide, in order to facilitate intelligent procurement for our customers," Bouchard sates.
"That's where I believe we can add the most value—managing the flow of multiple orders coming in, the ease with which you can place your orders, and scheduling your production accordingly to achieve maximum efficiency.
"It's all about bringing procurement intelligence to our customers," he states.
Going forward, Bouchard says he expects to see many new exciting developments to unfold in the industry as product labels continue to become more interactive with the consumers via QR (quick response) codes, RFID interlays and other 'smart packaging' components.
"We believe that there is plenty of room for bringing more intelligence to labels to connect consumers closer to the product," Bouchard states, noting that Labelink is currently the sole Canadian manufacturer of RFID labels.
While RFID labeling may not have lived up to the earlier hype that hailed it as a natural successor to barcoding, "There are some important niche markets, like medical device industry for example, where RFID provides a very effective means of product tracking," Bouchard states.
All in all, Bouchard feels that Labelink is in very good position to capitalize on any new trends yet to unfold in the CPG (consumer packaged goods) and other key markets.
"We have been operating as a lean manufacturing enterprise for many years," he says, "so continuous improvement is fully embedded in our corporate culture.
"We have never stopped trying to get better by further automating our business processes and building stronger relationships with our customers," he adds.
"We have improved the revenue flow for every company we have acquired to date," Bouchard concludes, "so we have plenty of good reason to feel confident about the future."