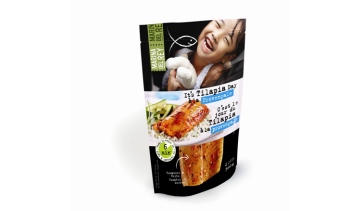 Eating healthier has just gotten a whole lot easier for health conscious Canadians, thanks to the new flexible stand-up pouches launched last month by the Montreal-based frozen seafoods supplier Marina Del Ray Foods for the company's new line of gourmet frozen fish.
"Everyone knows that they should eat fish more often but too many people, especially busy parents with young families, don't eat more fish at home because it can be smelly and be difficult to prepare if they want anything beyond fish sticks," says company president Frank Cristiano, adding the company has overcome both challenges by individually pre-packing six-ounce portions in gourmet sauce, which can be prepared simply by boiling the pack in water for six minutes and then opening it up with scissors.
"This approach has been used successfully with various red meat products but it hasn't been tried with fish until now," explains Cristiano, citing the product's nutritional benefits such as rich protein content and the abundance of Omega-3 fatty acids, which have been linked to helping prevent heart disease by lowering triglycerides and increasing good cholesterol.
"It's an answer to all the issues that keep people from cooking and eating more fish at home," states Cristiano, noting that the attractive consumer-friendly stand-up pouches—designed by the Montreal-based Orfe Design & Com—provide busy parents with an easy-to-prepare, healthy meal option that can be purchased at most leading Canadian retailers, including Metro, IGA, Walmart, Costco, Food Basics, Zehrs, Loblaws, Provigo, Produits Adonis, Superstore, Maxi and Sobeys.
Currently available in four different flavors—including Mediterranean Salmon, Teriyaki Salmon, Orange and Mango Tilapia, and Tilapia à la Provençale—the new frozen fish line will be expanded to include more mouthwatering flavors in coming months, according to Cristiano.