A really good night out on the town often has a dark underside to it—often manifesting itself the morning after with saggy, blurry and tired eyes that cry out for some magical instant relief. While women have an endless array of makeup tricks at their disposal to deal with such complexion blemishes, men have for the most part just had to suck it up and soldier on—until now. Developed by New York City-based Clinique Laboratories, LLC, the new Clinique Eye Gel is a great product that deftly borrows the roll-on technology once used on the overscented old-school deodorant sticks to apply a touch of cool instant relief to elevate your whole face just when you really need it the most.
++++++++++
Ever wondered what 200 grams of anything actually looks like? Most recipe books out there assume you do, but I suspect that many part-time chefs like myself normally don't have a clue. That's why I've grown very fond of the Starfrit brand of kitchen scales imported here by the  Longeuil, Que.-based Atlantic Promotions Inc. Retailing across Canada through the Kitchen Stuff Plus chain, the high-precision Starfrit electronic kitchen scale features an easy-to-clean glass surface that not only reads out the measured weight not only in grams, but also in ounces and pounds, while the attractive, recyclable paperboard box in which it is sold also packs a layer of super robust protective liner that would enable the contents to survive even if a truck was to roll over it, according to the company.
++++++++++
One does not have to be a pet-owner to notice and appreciate the abundance of visually stunning packaging used for products to nourish people's favorite pooches and kitties nowadays. Boasting sophisticated resealability features, detailed product claims and all kinds of other value-added packaging bells and whistles, some of that pet-food packaging is enough to make one think that being Homo sapiens may be becoming somewhat second-rate.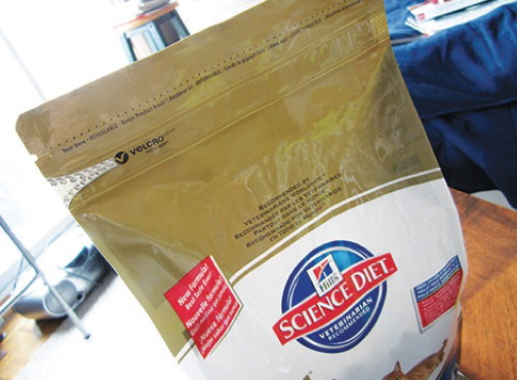 For someone who has purchased a great deal of Ziploc products over the years for the home freezer, I was astounded to find a reclosable Velcro strip used to seal in the flavor of the Science Diet brand of 'Vet-recommended' cat food that also features a brilliant four-color print of a furry feline, dazzling product sample displays, and incredibly detailed nutritional information covering every last fractional milligram of just about every vitamin and nutrient out there.
++++++++++
Back in the kitchen, the Casabella Premium Waterblock brand of protective gloves—distributed in Canada and the U.S. by New York City-based Congers Inc.—features super-comfy cotton flock lining and natural breathable 100-percent latex that do a superb job of keeping your hands from getting all  wrinkly and dried-out when doing dishes and other house-cleaning chores, with their foldable cuffs capably preventing liquids from flowing down your arms in sneaky streams. This great functionality vividly comes to life thanks to a catchy, high-impact graphic package that looks ready to blow kisses of fluffy soap suds in your face from a pair of sexy-hot lips dressed up with the same shade of devilish-red as the pair of Waterblock gloves dominating the front panel of the peg-holed package.
++++++++++
Glass beer growlers are not the hot novelty items they used to be just a couple of years ago, but I suppose that's just the price of mainstream popularity. Even so, the branded growlers sold at the new upstart brewpub called Louis Cifer Brew Works—located on the popular Danforth strip on Toronto's east side—deserve a special honorable mention, even if only for the cleverly mischievous wordplay around the notorious name of Lucifer. Brewed right on-site with plenty of "Heart and Soul," as the brand tagline proudly proclaims, the Louis Cifer craft beer brand comprises the hearty Thai IPA, Blond Lager, Stout, Wit, Bock and ESP (Extra Special Stout) sud varieties to make sure your dark-tinted growler—an effective means of filtering out harmful UV light away from the contents—never goes empty for long. Despite being totally recyclable, of course, the brewpub's owners say that the actual recovery rate for these 1.95-liter containers is only abut 10 per cent—clear proof of their keepsake appeal and popularity among the local beer-loving masses.
Jaan Koel is a freelance writer living in Toronto. This article can be found in the May 2016 print edition of Canadian Packaging magazine.