The current trend in ecological nightmares appears to be what to do about all of the plastic waste floating around in our planet's oceans and seas.
How about building a whale out of the collected plastic waste?
As seen in the image above, a gigantic blue whale sculpture built from recovered plastic waste is delicately perched in the waterways of Bruges, Belgium as part of the city's Triennial Bruges 2018: Liquid City event.
This year is the second such exhibition, held every three years, featuring stunning artistic installations across the city center by artists and architects.
The Bruges art exhibition looks to examine the future of the city, with this year's event looking to stimulate interaction and lay a more solid future for the city. Bruges is quite literally surrounded by water, and capitalizing on that was STUDIOKCA of Brookyln, U.S., who designed, collected the plastic waste, and constructed the beautiful-looking cetacean for the event.
Skyscraper, aka The Bruges Whale is constructed out of some five tons of plastic waste as a mans to show how much waste is taken from cities and moved into the "liquid cities" of the ocean.
According to STUDIOKCA, they collected as much plastic ocean waste as possible—from Hawaii—in four months, before sculpting it all into a near-four story tall blue whale breaching the surface in a spectacular leap up and backwards like a high jumper, placing it into one of the main canals of Bruges.
STUDIOKCA joined with the Hawaii Wildlife Fund to scour the beaches performing clean-up, eventually collecting some five tons of waste over the four month period.
The plastic ocean waste was cleaned and sorted and then attached to wire mesh that covered an aluminum and steel frame work in the shape of the whale.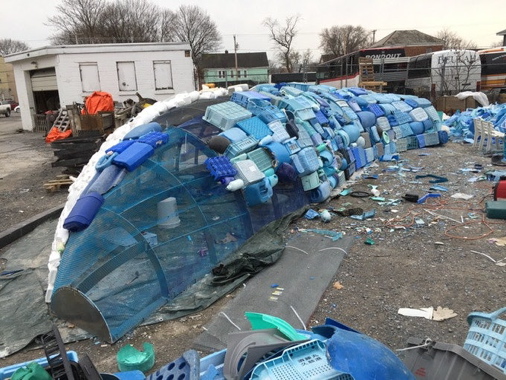 The sculpture was first built in Brooklyn, before it was taken apart into 107 individual pieces and shipped to Bruges for the reconstruction.
Back in 2013, STUIOKCA built an art piece called Head In the Clouds out of 53,780- recycled bottles—the exact amount of plastic waste created in New York City every hour, apparently.
Images by STUDIOKCA/Alejandro Duran, Mathias Desmet and Chuck Choi.