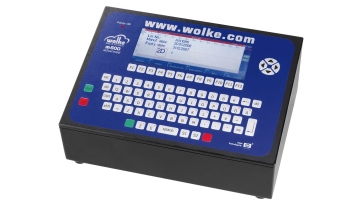 WOOD DALE, Ill. – The just-released Wolke m600 advanced small character thermal ink jet (TIJ) printer from Videojet Technologies Inc. is the ideal system for complex coding requirements often found in the pharmaceutical, tobacco, health and beauty, and other industrial markets.
The printer enables high-speed coding of serialized data and many types of bar codes, including GS1 DataMatrix, to be compatible with track-and-trace applications.
"Due to its use of multiprocessor architecture and flexible communications options, the m600 advanced can be integrated into a range of process control systems," says Chris Riley, business unit manager for the Videojet pharmaceuticals group. "The printer's communication capabilities enable integration in compliance with 21 CFR Part 11 for maintaining electronic data records for FDA-regulated industries."
Four printhead models facilitate integration into packaging lines by enabling printing from above or laterally, with print heights ranging from ½ inch to two inches. Uptime performance is enhanced through a range of features including quick ink cartridge replacement and Wolke Universal Black ink, a genuine Hewlett-Packard ink. Universal Black ink delivers an optimal combination of long decap time — which keeps ink fluid — and short drying time, making it an ideal ink for varnish-free surfaces on folded chipboard boxes and other paper substrates.
Available software packages increase functionality and productivity of the Wolke m600 advanced. With m600 advanced Label Designer, line operators can quickly and easily create and edit complex print labels with logos. The m600 advanced Ethernet Manager helps users manage and back up print data and perform software updates.
A convenient, integrated remote control and monitoring function enables management of m600 advanced print systems from a central location by displaying information such as warning or error messages, ink levels, ink consumption per print and available memory space for storing messages.
Videojet Technologies Inc. is a world-leading manufacturer of coding, printing and laser marking products, fluids, and accessories for the product identification industry. For more information about the m600 advanced small character TIJ printer, call 1-800-843-3610 or visit www.videojet.com.