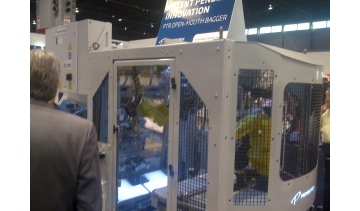 Situated in Booth #3724 at the Pack Expo Chicago, October 28-31, 2012, Premier Tech has premiered its revolutionary patent pending PTR-1030 open mouth bagger.
Canadian Packaging will have more details on this stunning piece of equipment shortly—perhaps even a photo more in focus.
Premier Tech's Industrial Equipment Group (IEG) is an international leader in bag packaging technology, offering a full line state-of-the-art equipment such as: baggers, palletizers and load securing systems adapted to the requirements of small-, medium- and large-scale productions.
Bagging machines from Premier Tech's IEG are effective and diversified. They are perfectly adapted for a wide variety of industries such as food, feed, seeds and crops, lawn and garden, chemicals, minerals, etc.