O-I's Vortex Bottle Named A 2010 Top 10 Package Design
By Canadian Packaging Staff
General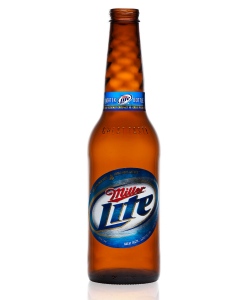 Heralding the company's Vortex bottle for MillerCoors' Miller Lite as "a stunning example of O-I innovation," the Glass Packaging Institute has named Owens-Illinois, Inc. (O-I) a 2010 Clear Choice Award winner. The award recognizes the Vortex bottle, one of the first innovations coming out of O-I's newly established innovation practice, as one of the year's top 10 package designs.
Presented annually, the GPI awards celebrate the contribution glass packaging makes to the image, marketability, sustainability and success of food, beverage and cosmetic products.
The 12-ounce Vortex bottle, manufactured using O-I's proprietary internal embossing technology, features specially designed grooves on the inside of the bottle's neck. MillerCoors owns exclusive rights to the Vortex pattern in North America for its Miller Lite brand.
"The early payoff has been great – the sales trend for Miller Lite 12-ounce bottles has improved five percentage points since we launched the Vortex Bottle," says Pat Moertl, Miller Lite brand director. "Retailers see how the Vortex Bottle differentiates Miller Lite from the competition, and consumers have been attracted to the bottle's unique design, surprised to see something different in a glass beer bottle."
Vortex is just one example of how O-I, the world's largest glass container maker, is blending the art of package design and the science of glass to create innovative new packaging options that attract consumers and deliver results for customers. O-I has a variety of internally embossed stock patterns available, and the company can create custom packaging designs to suit any beer, wine, spirits, non-alcoholic beverage or food brand.
"It's rewarding to see this bottle embraced by consumers and the industry. The consumer response to Miller Lite in the Vortex bottle demonstrates the impact packaging can have on sales performance," states Scott M. Magnus, beer marketing manager at O-I. "And, the prestigious GPI award underscores the Vortex bottle's innovative design as a true marketplace differentiator that sets this bottle apart from the standard glass beer bottle."
The Vortex bottle and other 2010 GPI award-winning products were featured at The Showcase of Packaging Innovations at PACK EXPO International 2010, held Oct. 31 to Nov. 3, at McCormick Place in Chicago.
For more information on the GLI, a trade association representing the N.A. glass container industry, visit www.gpi.org.
For more information on O-I, a global manufacturer of 100 per cent recyclable glass containers, visit www.o-i.com.