New global packaging design – at McDonald's
Bags and cups to feature QR Codes providing customer access to its nutritional information.
---
January 28, 2013
by Canadian Packaging Staff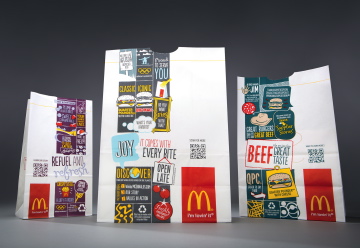 OAK BROOK, IL—McDonald's has unveiled new packaging designs on its take-out bags and fountain beverage cups with QR codes, the latest step provide consumers with information to make informed choices.
On the take-out bags in the image above, the QR codes are located just above the red block containing the iconic McDonald's golden arches.
The launch begins in mid-February in the U.S. and will continue rolling out worldwide through 2013, with the text being translated into 18 different languages.
As a company that has provided nutrition information for more than 30 years to its customers, the new packaging is designed to communicate brand stories in an engaging and modern way.
A blend of text, illustrations and a QR code will deliver interesting facts about the brand and make nutrition information easily accessible from mobile devices.
"Our new packaging is designed to engage with customers in relevant ways and celebrate our brand," says McDonald's chief brand officer Kevin Newell. "Customers tell us they want to know more about the food they are eating and we want to make that as easy as possible by putting this information right at their fingertips."
In addition to gathering consumer input on these designs, McDonald's consulted its Global Advisory Council, a group of independent advisors in the areas of nutrition, public health and fitness. These outside experts emphasized the importance of providing access to nutrition information, and support using the new packaging to directly connect customers to information about McDonald's menu.
This latest initiative builds on the company's history of providing nutrition information to customers, also available through in-restaurant menu boards, brochures, tray liners and a variety of digital platforms such as mobile web, apps, kiosks and desktop.
McDonald's has a long record of sustainability leadership action to create positive change. Nearly 80 percent of the company's consumer packaging in the majority of McDonald's markets is made from renewable paper or wood-fiber materials.
About McDonald's
McDonald's is the world's leading global foodservice retailer with more than 34,000 locations serving approximately 69 million customers in 119 countries each day. More than 80 percent of McDonald's restaurants worldwide are owned and operated by independent local men and women. To learn more about the company, www.aboutmcdonalds.com.