I consider myself to be a fairly simple man who enjoys the everyday convenience of a wide variety of food products—sourced locally and worldwide—conveniently packaged to stay fresh until required. Be it my favorite Thai dish, shipped in a can and all ready to heat and serve, or my box of  snack-pack chips from Costco to give me instant gratification  whenever the mood strikes, products like that make me feel like I'm the king of a single-serve world. But if I really were king, my first decree would be to do away with the single-serve coffee brewing systems like the Keurig Brewing System from Keurig Green Mountain, Inc. With its pod-like K-Cup, Keurig and other single-serve systems like it, are now ubiquitous in offices, homes sand grocery-store aisles all over the land. As I continue to resist hopping aboard the K-Cup bandwagon, I was disheartened to see the Maxwell House K-Cup brand from Kraft Foods making its grand entry into the single-serve segment this past summer.
Given  some estimates that you could circle the earth more than 10 times with discarded K-Cups from last year alone, having another major brand adding to this mess hardly seems like a step in the right direction. For all the convenience of an outer peel-off plastic seal to  protect the coffee pod from contact with the air, the fact that it is largely unrecyclable only compounds the non-recyclable structure of the perforated plastic K-Cup coffee pod itself. Although a recent LCA (life-cycle assessment) study from PAC, The Packaging Consortium claims that single-serve coffee actually has a smaller impact on the environment than regular drip coffee over the entire life-cycle of the product, I am more reassured by Keurig's recent launch of the new K-Mug pod, made from recyclable polypropylene. For now, the new pod is only compatible with the newly-launched Keurig 2.0 home-brewing system, but it's a start. And if the company delivers on its promise of making all of its single-serve offerings recyclable by 2020, I may even reconsider my normal daily practice of brewing for one from bulk.
++++++++++
Coffee may be leading the single-serve charge, but the podification of things is rapidly accelerating across many food categories, as evidenced by the Toppers brand of flavored tuna from the  Markham, Ont.-based Clover Leaf Seafoods. The 150-gram offerin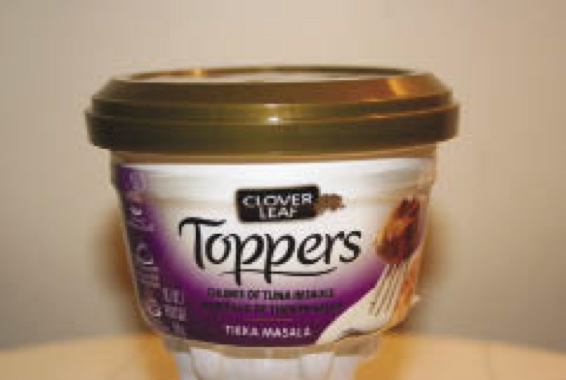 g of tuna chunks bathed in one of four sumptuous sauces—including the tastefully spicy tikka masala—comes in a single-serving, microwaveable, pod-like container topped off with the EZ Peel foil lid. Peel it off, put the vented plastic cover back on, and in 45 seconds of microwaving on 'high' setting you have a very tasty and healthy protein topping to dress up your rice, pasta, baked potato or other carbs of your choice. Moreover, I feel morally reassured by the Dolphin Friendly seal on the product labeling—albeit I'm less sure the caught tuna would share that sentiment—along with the No. 5 recycling symbol noting the bowl's compatibility with most recycling streams.
++++++++++
The Pata
k's Original line of no-fuss Indian dishes from Lancashire, U.K.-based AB World Foods Ltd. strays away from the single-serve theme, but not by much. The brand's Cooking Sauce For 2 – Spicy Cumin & Ginger pack offers a nice blast of heat for consumers looking for exotic flavors with minimal cooking and preparation effort. The high-impact tantalizing graphics decorating the 200-ml stand-up pouch depict a mouth-watering recipe suggestion of cooked beef cubes sitting on a bed of rice and covered with the sauce, evoking memories of the great curry houses of England. My only objection is that I don't think the 200-ml portion size is really enough for couples who love Indian food as much as myself and missus, but that's something I'm willing to suck up to the last drop.
++++++++++
Mondelez Canada Inc., was single-serving it up in style when it released its "To Go!" 334-gram package of Ritz brand crackers under the Christie product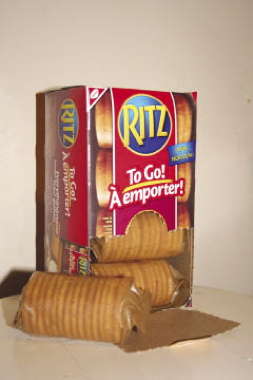 label. Containing eight individually-wrapped, 41-gram single-serve sleeves—each packing about 13 crackers per cello-packed roll—the new format provides a perfect portion size to enjoy on the go, be it served up as your kid's school snack or as a tasty addition to your own lunch bag. Taking its "To Go" theme one step further, the Ritz brand deftly designs value-added convenience into the cardboard box itself with a perforated grab-and-go flap for easy access to the contents either laying flat, or functioning as a mini pop-can dispenser that lets the stacked rolls of crackers drop to the bottom, layer by layer, as soon as the bottom roll is removed. Remarkably, I have yet to come across a single broken cracker since discovering this little bit of inspired package design innovation at my local grocer. Way to roll with the changes, Ritz, way to go indeed!
Paul Pethick is writer and editor with Invivo Communications Inc., a pharmaceutical communications services firm based in Toronto.