As an ex-billionaire playboy who had to give up the life after an elevator accident—don't ask—I can certainly get into the whole super-hero motif presented in a recent promotion by Larson Electronics of Kemp, Texas.
Nowadays, I am a comic book geek (or is it nerd?), with over 35,000 of the things sitting in acid-free corrugated boxes and individual mylar sheaths with an acid-free backboard.
I'm a fan of the spandex, cape and cowl, so you can bet I have also been watching all of the recent comic book-related television programs—both animated and live-action—that my wife will allow me to watch after she goes to sleep.
One of the interesting properties put out by DC Comics (the 'DC' actually stands for Detective Comics, which makes the company Detective Comics Comics – yeesh), is Arrow, a different but familiar take on non-super-powered Oliver Queen's Green Arrow persona. Think Robin Hood, but way more macho than even Maid Marion could handle.
Larson Electronics thought Arrow was cool, too, and offered up this heroic tidbit of superlative, that is right on target. Admittedly, I did have to alter the way it was originally presented to place it in THIS format, but the story arc is still the same:
As billionaire playboy Oliver Queen returns home after being stranded on a hostile island for 5 years, he pursues a mission to fight crime in his home town of Starling City. While reconnecting with those closest to him, by night Oliver secretly masquerades as a hooded vigilante, attempting to fulfill his dying father's entreaty: to right the wrongs of his family, fight the ill of society, and restore Starling City to its former glory.
Color Changing LED Bulb

In the first season Oliver decides to build a new dance club above his hideout as a cover for his nighttime disappearances. Every club owner relies on ambiance to create the perfect setting for people looking to have a good time. The LED18W-PAR38-RGB features 16 preset color selections and can be set to operate in different modes, including steady burn, flash, strobe, color fade, and smooth fade. The multi-features of this bulb will set the mood in any club!
Infrared LED Light Bar

The LEDLB-80X2E-IR is an infrared LED light bar that offers high infrared light output and extreme durability combined with versatile mounting and power options. Equipping Oliver's van with one of these light bars will aid in hunting down bad guys at night. These light bars are IP68 rated and waterproof to 3 meters, sealed against intrusion by dust and dirt and very ruggedly constructed.
Infrared LED Handheld Spotlight

The RL-85-3W1-IR Infrared LED pistol grip spotlight is an extremely rugged and effective IR spotlight designed to give users a powerful, durable and easy to use source of IR light. This 3 watt IR spotlight produces an infrared light beam approximately 1,800′ long by 175′ wide in the 850 or 940 Nm range depending upon configuration. With a fifteen hour run time on a single charge, this infrared light will provide the hooded masked vigilante with plenty of light to assist in capturing the criminals without being spotted.
Energy Efficient LED Bulb

In an effort to conserve energy, Oliver must outfit his home with the LED-A19-10-E26. Even billionaires like to be energy conscious and save money! This bulb utilizes only 10 watts and is designed to operate with 100-277 volts AC or 12-28 volts DC. This lamp provides higher efficiency than traditional incandescent A19 bulbs and is a direct fit replacement. This lamp has an acceptable temperature range of -20°C to 85°C with an operational life of 50,000 hours.
LED Replacement Tube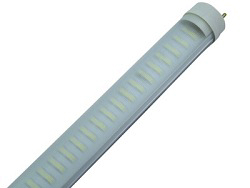 Queen Consolidated is top of the line and should only use top of the line products. The LEDT8-28W-V1 is a 28 watt LED replacement lamp that is an excellent choice for upgrading existing T8 fluorescent lamp fixtures and produces 3,500 lumens of light. These LED fluorescent style bulbs are universal voltage and run directly off any voltage ranging from 100 volts to 277 volts AC.
Explosion Proof LED Light Fixture

Basements tend to be dark, but mounting an EPL-48-2L-LED light fixture in the space will add sufficient lighting for Arrow's hideout. This four foot, two lamp fixture is ideal for operators seeking a top quality explosion proof light that will reduce operating costs, improve lighting quality and reduce downtime incurred from frequent servicing intervals. This LED linear fixture is lighter in weight, has a slimmer profile, and produces more light than traditional fluorescent fixtures.
150 Watt High Bay LED Light Fixture

Queen Consolidated needs reliable and precise lighting for their leading edge projects. The copper free aluminum alloy body is powder coated for added durability and aesthetics. The EPL-HB-150LED-RT is a high bay light fixture that provides operators with a powerful and energy efficient alternative to traditional luminaries. This LED light produces 13,000 lumens of light and can be operated on 100-277 volts AC.
60 Watt Remote Control LED Wall Pack

Thea must keep up with the latest trends to keep her business up to par. The LEDWP-600-RGB is a color changing LED wall pack light that offers high light output from a compact form factor and is
designed to provide a durable, long lived alternative to halogen and metal halide units. This unit produces red, green, and blue light of varying levels and intensity and can be set to operate in different modes. Operators can scroll through various colors by using an included handheld remote control.
I love the effort put out by Larson Electronics here – whoever wrote this press release certainly knows their electronics and their Arrow! Is it an ad or a story? Nice job! For company information, team-up with them at www.larsonelectronics.com.
I must admit I am more of a Green Lantern fan than GA, however, but rank their team-ups back in the early 1970s as the creme de la creme of comic book story-telling.
I know, I know – geek… or is it nerd… which one isn't rich?
Andrew Joseph
Features Editor
Canadian Packaging