Festive Packaging Feast For The Eyes
A monthly look at some of the hits and misses in the packaging world from the viewpoint of Joe Public, Canadian Packaging magazine's revolving columnists. From the December 2017 issue.
January 22, 2018 by Shannon Kaupp
---
With the holiday season just around the corner, colorful festive packaging is popping up all over the place in a brief, but thoroughly enjoyable display of innovative design, eye-catching graphics and ingenious takes on everyday products that have suddenly found a new voice and identity to vie for consumers' attention during the year's busiest shopping frenzy.
++++++++++
Spice and seasonings distributor Oliver & Taylor's Amish Country Popcorn gift-box offers a vivid example of how a little divine packaging inspiration can turn a simple staple product into an elegant upscale addition to any kitchen décor. Containing five different varieties of gluten-free, non-GMO popcorn lovingly grown by a devoutly spiritual Amish community in Berene, Ind., the pretty teal display case is a joyful feat of brilliant structural design that enables all nine products in the set to remain upright, snug and cozy, in their custom-fitted compartments. Filled to the top in simple 113-gram clear-plastic pillowbags, each of the lovingly named popcorn varieties oozes with rich natural colors and purity to project a calming comfort-food vibe. Also housing three mini clear glass mason jars containing 130 grams of Chipotle Salt, Garlic Salt and Szechuan Pepper Salt, the ensemble offers a multitude of possible flavor combinations to try over the holidays—the proverbial gift that keeps on giving. Product transparency is a beautiful thing when you have nothing to hide.
++++++++++
The cheerful paperboard sleeve packaging of the Jane and Bleeker Critter socks cleverly uses the product as part of the package to make the shoppers feel like they are adopting a cute little cuddly pet, rather than a functional pair of slipper socks. The lunch-bag style sleeve allows the critters' adorable faces to stop the shoppers in their tracks with their irresistible cuteness factor, affectionately enhanced with the graphic image of a winter scarf underneath and a tuque hat just above the window cutout. A festive-red ribbon keeping the socks together through the peg hole at top of the bag also makes it perfectly Christmas Tree-ready, with no need for any additional wrapping or decoration.
++++++++++
If you were in the business of making egg-shaped soaps, what would you want to package them in? An egg carton, of course! Manufactured by Holika Holika, a division of Korean-based beauty product and cosmetics giant Enprani Co. Ltd., the Charcoal Egg Soap brand comes in white-coated molded-fiber egg cartons that vary in size depending on how many soap bars, eggs rather, they pack. Formulated to exfoliate the skin, tighten the pores and prevent acne outbreaks, the product's all-natural formulation—including the use of egg whites—is aptly projected by the simple, straightforward and logical packaging that instantly connects with consumers on both the emotional and pragmatic level, with the carton's easy recyclability a welcome guilt-free bit of value-added packaging savvy.
++++++++++
For its part, the Morgan and Grace brand of Irish-based pharmacy wholesaler D. O'Reilly & Sons Ltd. uses a round dome-shaped clear-plastic bubble to package its 50-ml tub of Recover and Relax Duo of premium body skin treatments. Doubling both as a Christmas Tree ornament and a fancy gift requiring no extra wrapping, the eye-catching globe hits all the right festive visual notes with its turquoise and gold color scheme, along with a sparkling golden ribbon to hang it up on a green branch for some extra seasonal cheer.
++++++++++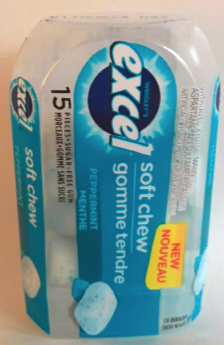 With all the extra eating and snacking that comes with the holidays, keeping your breath fresh is an ongoing endeavor—thankfully made easier with the new packaging for Wrigley's Excel Soft Chew gum brand of the Mars, Incorporated. Containing 15 pillow-shaped pieces of pieces of explosive bursts of peppermint to tackle the nastiest mouth odors, the rigid clear-plastic container is small and slim enough to easily slip into a pocket or small purse, and the bottom flip-up closure snaps in perfectly after use to prevent any loose pieces from wandering astray from the pack. A refreshingly good packaging idea.
Shannon Kaupp is a licensed doctor of naturopathic medicine living and practicing in Toronto.