Canadian cheese-lovers are really spoilt for choice nowadays, with supermarket aisles and deli counters brimming with generous selections of highly innovative and tantalizing recipes to create fabulous cheese platters for entertaining, or to simply enjoy and savor on its own. With so many cheese varieties and recipes out there, it's also a product category that offers a wide gamut of eye-catching packaging formats to help consumer enhance their cheesy indulgences with some classy packaging aesthetics for a highly enjoyable brand experience.
Being a tireless advocate for using natural materials in packaging, I am compelled to give a hearty callout to the Le Rustique camembert brand by Jean Verrier, Fromager. The package is made with wooden sides and top and a cardboard base, held together roughly with a few metal staples. It's lined with a soft, thick paper that feels like cloth, and looks like it too, with its cheerful red-and-white check print. The brand name is printed on the wood in such a way that it looks like it was burned into the lid and the round container wall for an extra "rustic" look is perfectly suited to a picnic as we enjoy the last of these lingering summer-like days.
The President's Choice Black Label private-label brand retailed by Loblaw's is generally a credit to packaging designers working behind the scenes to create it—often featuring a sophisticated black background and intriguing product photography, often including a scenic vista from the geographic origin of the product. However, I felt like the packaging the President's Choice Crema di Burrata impeded my understanding of the product. Not being able to see the actual cheese behind the sidewalls of the opaque white plastic container, itself a rather run-of-the-mill for this kind of a specialty product, one has to trust the photograph of the product on the label as to what to expect inside the tub. But what looks like a large ball of soft cheese sliced open, deforming slightly under its own weight, turns out to be a collection of smallish soft curds in a creamy liquid after opening the lid. But although it was not well-suited for the salad I had initially envisioned, it did end up making for a very tasty addition to a pasta sauce.
Some classic iconic packaging naturally resists the passage of time, with Philadelphia Original Cream Cheese packaging a stellar example. I practically can close my eyes and see this packaging as it was in my youth. But although it seems like nothing has changed, a search on Google Images throughout the decades does show that there have been subtle updates I didn't recall catching my eye at the time, such as the arcing lines used to form a more sedate oval logo shape, and the word 'Philadelphia' is bookended with a kicky upsweep of the font that wasn't there before. But with the silvery gray, white and navy-blue color scheme still fundamentally unchanged over the years, you really know this look has evolved to the status of cultural rope when 'no-name' competitors and even some store brands adopt a very similar-looking color schemes for their own cream cheese offerings.
A clear see-though plastic vacuum-pack is a perfect choice for the President's Choice Herb & Garlic Halloum herb-covered block of cheese to speak for itself from inside the package by letting the green herbs project a sense of natural filled freshness from inside the squarish package, which is further enhanced with a deep-green wraparound sleeve rolled around the pack to keep it in shape. The product deftly uses the sleeve's generous packaging real estate to provide all the key nutritional information and, moreover, includes a photo of the halloum cheese cubed and barbecued on a skewer. This is particularly useful, as is the additional information on the back of the sleeve explaining how and why this particular variety of cheese holds its shape and resists melting when cooked. With this cheese variety not being all that well-known outside of the Mediterranean region, this package has certainly done its homework insofar as educating Canadian consumers about this tasty and versatile cheese product.
Some cheeses, such as any herb-encrusted cheese, are inherently beautiful. Others, like cheddar, are a bit plainer, hence requiring an extra boost from the packaging to catch the consumer's eye. Just like the Balderson's Royal Canadian Cheddar Aged 2 Years specialty aged cheese has done with great care and diligence by inserting a luxurious regal product label behind the front protective layer of tightly-wrapped shrinkwrap film—unleashing a visual feast of prize-winning ribbon graphics centering an equally dazzling metallic pattern of faux gold maple leaves glittering against a deep black backdrop. For all the visual pizzazz, I do wish this packaging had some kind of a resealable feature incorporated into the design, for it's a bit of a shame having to discard of this attractive product label so soon after opening up the package, and then rewrapping it into wax paper and aluminum foil to maximize its shelf-life, prolong its aroma and maintain the proper humidity levels.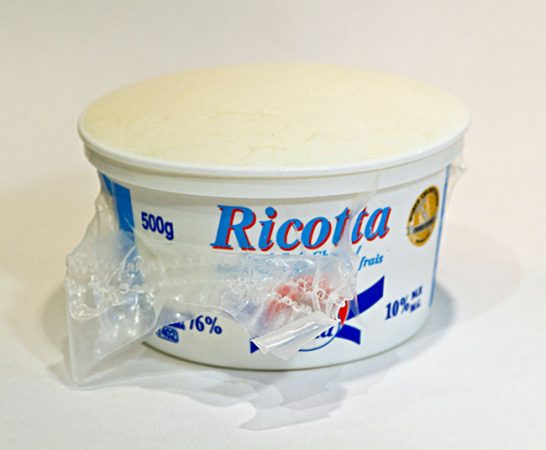 While Santa Lucia's Ricotta brand comes in pretty much the most basic packaging around—it's a plastic tub wrapped in clear plastic stretch film—it is supremely functional. By easily allowing you to see the ricotta inside to confirm that it's rounding up smoothly under the plastic as proof of freshness, the package takes a lot of guesswork out of lasagne preparation. While some other ricotta cheeses out there retailing in more imposing and decorative packaging, for a cooking chees like ricotta that may be a bit of a packaging overkill. Sometimes, the honesty of a plain package is really all you need.
The Devil's Rock Creamy Blue Cheese from Thornloe Cheese is enrobed in a thick layer of wax—forming an enigmatic deep-blue pyramid. From what I have read, good old-fashioned wax is still an ideal material for packaging many kinds of cheeses, as it creates the right balance of humidity and provides protection from the wrong kinds of mold growing inside the product. This is naturally of paramount importance for blue cheese, where the whole premise is based on keeping the blue mold inside the product alive for as long as possible without allowing any other kind of culture to sneak in an tarnish the taste, or worse. As for final presentation, someone out there deserves an award for the sheer simple elegance of putting the pyramid inside a formfitting cardboard tray and holding the whole ensemble tightly in place with a decorated wraparound adhesive paper band containing all the important product information, while also serving as a thoughtful little product handle, just in case.
Julie Saunders is a freelance writer based in Toronto.