Premier Tech Chronos interview on Fox Business TV show – New Date
Marketing vice-president and sales director of Premier Tech Chronos will both appear on Sunday, March 15, 2015 program Corporate Review.
---
March 10, 2015
by Canadian Packaging staff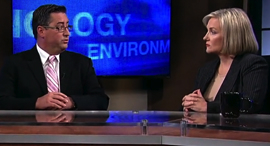 Premier Tech Chronos marketing vice-president Simon Roy and sales director Tim Dolan will appear on the March 15, 2015 television Fox Business TV program Corporate Review starting at 11:30AM EST. (See image above of Roy being interviewed).
Interviewed by Corporate Review host Jackie Bales, both Premier Tech Chronos experts will discuss their company's innovative solutions and flexibility automation.
Based in Canada and with offices all around the world, Premier Tech Chronos is the packaging equipment group of Premier Tech.
Premier Tech Chronos is among the largest packaging equipment manufacturers in the world and well-known in the flexible and the rigid packaging industries for its state-of-the-art packaging machines and its complete packaging lines for small-  and large-scale production.
Its wide product portfolio includes solutions such as bagging scales and feeders, bagging machines, case packing machines, robotic and conventional palletizers, stretch wrappers, stretch hooders, conveyors, etc. It also offers bulk processing solutions as well as peat moss field equipment, including screening systems, mixing lines, harrows, vacuum harvesters, and more.
Earlier this month, Premier Tech announced that its Industrial Equipment Group (IEG) will now be marketing its whole range of products and services under the brand name Premier Tech Chronos worldwide, bringing together IEG's three business sectors: rigid packaging (RP), flexible packaging (FP) and client services (CS).
More information on Premier Tech Chronos can be found at www.ptchronos.com.
Canadian Packaging will provide footage of the Premier Tech Chronos interview after the show airs.