Packaging's path forward for a circular economy
PAC's PACNext hosts a packaging industry dialogue on the circular economy on April 11, 2017.
---
March 27, 2017
by Canadian Packaging staff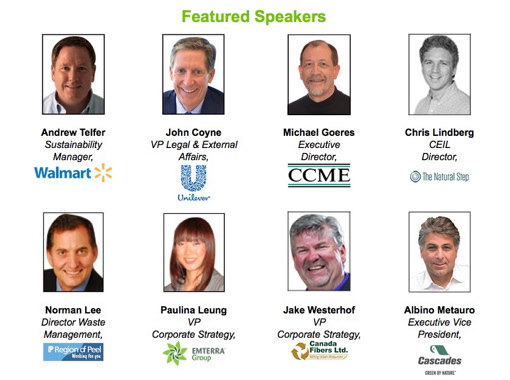 MISSISSAUGA, ONT.—Why should the packaging industry be engaged in the circular economy dialogue?
The circular economy is more than just a new way to approach sustainability – it is challenging the packaging industry to re-think their business models to become restorative and regenerative by design. How companies define 'circularity' and put principles into practice will be critical as changing policies (i.e., Waste-Free Ontario Act)  will increase pressure to find packaging solutions that truly work. This means that reusable, recyclable, compostable or recoverable packaging must be packaging that is actually reused, recycled, composted or recovered, respectively.
Why should I attend this Packaging's path forward for a circular economy seminar?
All stakeholders along the packaging value chain will be able to:
Gain a deeper understanding from key thought leaders who will share their vision and strategies on packaging's path forward for a circular economy;
Share priorities and challenges in driving the circular economy with other decision-makers who design, execute and manage packaging;
Actively engage and connect in a workshop environment
What topics will be covered?
Engaging suppliers to improve packaging sustainability;
Evolving corporate strategy to meet circular economy goals
;
Process for accelerating the circular economy for packaging
;
Government framework on packaging policy and extended producer responsibility
;
Defining what 'circular economy' means relative to packaging
;
Packaging 'End of Life' solutions to close the loop
LIMITED SPACES AVAILABLE. Register now!
When:
Tuesday, April 11, 2017
8:00 – 8:30am – Registration and Breakfast
8:30 – 10:00am – Session 1: The Framework
10:00 – 10:30am – Networking Break
10:30 – 12:00pm – Session 2: The Strategy
Where:
Centre for Health & Safety Innovation
Training Room 200
5110 Creekbank Road
Mississauga, ON
| | | |
| --- | --- | --- |
| Price: | CAD$ | US$ |
| PAC NEXT Member | | |
| Early Bird (ends March 28th) | $49 | $40 |
| Regular | $79 | $70 |
| PAC Member | | |
| Early Bird (ends March 28th) | $79 | $70 |
| Regular | $109 | $90 |
| Non-Member | | |
| Early Bird (ends March 28th) | $109 | $90 |
| Regular | $139 | $120 |
REGISTER in Canadian Funds
REGISTER in US Funds
For more information, contact Rachel Morier at 416-727-3512 or via e-mail at rmorier@pac.ca.
About the PAC
Join over 2,300 North American members that benefit from the vast networking opportunities through PAC's wide range of competitions, educational activities and events. PAC, Packaging Consortium is a not-for-profit corporation serving as a vital partner and catalyst for the packaging value chain for over 65 years.
Join the PAC and learn more at www.pac.ca.