Albeit money naturally does not grow on trees, Canadian population is very fortunate to have been a long-time beneficiary of the positive economic and nutritional contribution offered to consumers by the growing variety of fresh cash crops grown, cultivated and marketed by countless hard-working growers, shippers, packers, distributors, retailers and other key stakeholders in the country's vibrant and vitally important fresh produce sector.
United in common purpose and calling by shared economic interests and a special role in Canada's increasingly complex food chain and infrastructure, Canadian fresh produce companies have for their part benefitted significantly over the decades from top-level leadership and guidance provided on their behalf by the Ottawa-based industry group CPMA (Canadian Produce Marketing Association)—founded back in 1925 under the Eastern Canada Fruit and
Vegetable Jobbers Association moniker.
With a mandate "to enhance the market and facilitate trade of fresh fruits and vegetables," the CPMA is one of Canada's most authoritative, influential and hard-working industry groups serving the country's manufacturing community facing existential competitive and legislative challenges on numerous fronts—arguably never more so than today.
According to CPMA, successfully meeting and resolving those challenges is paramount not only to the fresh produce sector itself, but to maintaining Canada's economic growth and high standards of living that too many consumers often tend to take for granted.
"In 2016, the produce sector supported 181,000 jobs in the Canadian economy," says CPMA's director of communications says Allan Gordon, "while the produce industry and its supply chain had an estimated economic impact of $14 billion in real GDP (Gross Domestic Product) in Canada the same year.
"These numbers translated to $2.5 billion in wages and salaries," Gordon points out, "and approximately $4 billion in total accruing taxes to provincial and federal governments combined.
"The staggering size of these numbers reflects how critical the success of the produce industry is to supporting the Canadian economy."
This importance is vividly underscored each spring with CPMA's annual conference and trade show that will feature its 94th edition in Montreal next month.
Running April 2-4, 209, at the city's landmark Palais des congrès de Montréal fairgrounds, the sold-out event will feature over 300 exhibiting companies and over 4,000 individual attendees representing over 1,300 companies, according to CPMA, including the bulk of Canada's leading retailers and foodservice operators.
Alternating its host venues each between Vancouver, Toronto and Montreal each year, this year's event—organized under the all-inclusive We are Produce theme and banner —will continue its time-honored tradition of providing the attendees with highly informative educational sessions; inspiring keynote addresses; hands-on workshops and seminars; an industry awards presentation ceremony; and festive social networking events during show hours and in the evenings.
"We are very excited about this year's program," says Gordon, promising a generous display of exciting packaging innovations to be unveiled at the show's New Product Showcase area, where show attendees will be able to cast a vote for their choice of this year's Packaging Innovation Award.
As Gordon explains, continuing packaging innovations is a key prerequisite for a Canadian fresh produce sector that is still far from anywhere to reaching its full potential in the global markets for fresh fruits and vegetables.
"Packaging has always been a critical aspect of the produce industry," Gordon told Canadian Packaging in a recent interview.
"In order to provide safe delivery highly-perishable produce from the farm gate to the dinner plate, our sector relies on the incredible work of the packaging industry to help maintain the look and freshness of fruits and vegetables."
According to Gordon, the topic of sustainable packaging is fast becoming one of the dominant narratives in the Canadian fresh produce industry circles.
"As consumer awareness has grown and environmentalism has become an increasingly important value in our society, the industry's customers are becoming more aware of their food's packaging in recent years," Gordon remarks.
"The consumer demand for transparency from companies on the types of packaging they're using is driving more businesses to use environmentally-friendly packaging," he says, "and the packaging industry is rapidly evolving to meet the needs of the produce industry by creating highly-recyclable, and even completely biodegradable, solutions for businesses in the produce industry.
"Our industry members are fortunate to work with leading packaging companies to create and implement eco-friendly solutions," says Gordon, citing the high-profile global acclaim earned at this year's massive Fruit Logistica 2019 international trade fair for fruit and vegetable marketing by CKF, Inc., one of CPMA's growing list of packaging member-companies.
Founded in 1933 in Hantsport, N.S., CKF employs over 700 people at five manufacturing plants across Canada, specializing in the production of molded wood-fiber pulp packaging and single-use plates and cutlery, including the well-know Royal Chinet brand of single-serve plates.
In early February, CKF traveled to Berlin, Germany, to exhibit at the Fruit Logistica 2019 global trade fair—both on its own and as part of the Canada Pavilion group of companies and industry associations, including CPMA—where the company picked up a bronze (third place) Fruit Logistica Innovation Award for its Earthcycle brand of thermoformed molded-pulp packaging.
Developed as an alternative for plastic packaging used for packing pint-sized portions of smaller-sized fresh fruit, vegetables, berries and mushrooms, the home-compostable Earthcycle packaging was in fact the only package of the 10 show finalist entries to be produced outside of Western Europe.
Manufactured in Hantsport, Earthcycle packaging is a proprietary blend of virgin and recycled pulp sourced from FSC (Forest Stewardship Council)-certified producers in New England and eastern Canada.
"The fact that this is a North American-made product really resonates with a lot of our European customers who place great emphasis on food safety," says CKF's director of new market development Shannon Boase, who played a central role in the development and commercial launch of Earthcycle packaging back in 2005.
"Being certified home-compostable and also widely recyclable in most common paper wastestreams also gives Earthcyle a lot of environmental credibility," says Boase, "helping retailers reduce their dependence on single-use plastics.
With new European regulations requiring retailers to phase out single-use plastics by 2025, Earthcycle offers an effective alternative that has already achieved up to 98-per cent reduction in single-use plastics for some of the company's retail customers, according to Boase.
Moreover, the Earthcyle containers match the processing peed of their PET (polyethylene) plastic counterparts on automated high-speed top-sealing lines, Boase points out, enabling throughput rates of up to 90 packs per minute in top-seal applications and up to 300 packs per minute in detesting systems.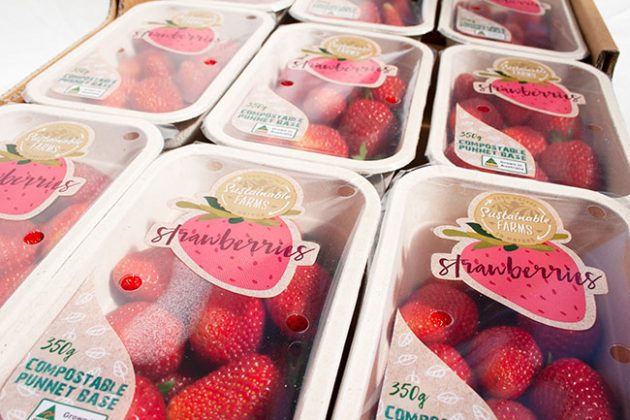 In addition, Earthcycle packaging has demonstrated a 20-per cent extension of product shelf-life for top-sealed packs of mushroom and for flowwrapped salads, herbs and vegetables compared to conventional PET containers.
Originally produced in Malaysia, the Earthcycle material has been manufactured in Nova Scotia since Boase sold her startup company to KFC in 2013, she relates.
"I am very pleases to see the production of Earthcycle to be reshored back to Canada," says Boase, adding he was thrilled with the recognition and positive feedback Earthcycle earned at the Berlin show.
"It turns out that we were the first ever North American company to have been nominated for the final 10 at the show," she relates, "so after being in this business for 15 years, this is a real career highlight for me.
"We were not competing just with other packaging products," she points out, "but with products serving the entire global food supply chain, which makes it a very special achievement not only for KFC, but for Canada's packaging
community at large."
Naturally, CPMA's Gordon says he wants to see CKF's global success to serve as inspiration for other Canadian packaging suppliers serving the fresh produce sector in support of its quest to open up new global markets.
"Canada is known worldwide to produce some of the freshest and healthiest produce," Gordon states.
"The global market has taken note of this and our export numbers continue to increase," says Gordon, pointing to China and other Asian regions as the most promising new export markets for Canadian produce.
"As a top-quality producer in the world with so many commodities in demand, we need to increase the quantity of our product getting out to the rest of the world and create positive trade relationships to expand our produce availability domestically."
At the moment, Canada's exports of fresh fruits and vegetables are considerably outweighed by the amount of imported produce entering the country, which is in large part related to Canada's climate and geography.
"Canada imports nearly three million metric tonnes of fruit per year, worth over $6 billion," Gordon relates.
"Conversely, we export approximately 300,000 metric tonnes of fruit per year, valued at over $700 million.
"When it comes to fresh vegetables, we import approximately two million metric tonnes, worth about $3.7 billion, while we export nearly one million metric tonnes, valued at over $1.8 billion."Canadian fresh produce sector is "quite competitive, albeit there is room for opportunity with foreign markets."
According to Gordon, the most pressing goal is to convince Canadian consumers to consume more fruits and vegetables as part of their daily diet in general, whatever their point of origin.
"Retail companies are constantly seeking the newest and freshest products, so importing from and exporting to new markets creates mutually beneficial relationships which set businesses apart in ways that are appealing to consumers at all levels."
Says Gordon: "The produce industry is constantly working on new innovations, exploring analytics, digitalization, automation and much more.
"With advancements like self-check outs, online retail, home delivery and food kits, the fresh fruit and vegetable sector is continually working to better serve our customers," Gordon states, "and having access to good packaging
is necessary along every step of the supply chain."
Currently ranking as the world's eight-largest exporter of fruit and seventh-largest exporter of fresh vegetables, Canada's fresh produce sector is arguable punching above its weight, given the size of Canada's economy and population, but Gordon suggests that it could still do more to advance its position globally.
"Canada has long been known to adhere to some of the highest standards in food safety regulations in the world, which is both a major benefit for our health as a nation and our reputation in the industry, while also occasionally being
a challenge for businesses to comply with," Gordon says.
"The Canadian Food Inspection Agency (CFIA) is vigilant in educating our industry and enforcing our superior safety standards.
"Their recently-launched Safe Food for Canadians Regulations (SFCR) have streamlined 14 previous regulations to standardize and facilitate the trade of food inside our country and when dealing with trading partners," says Gordon, adding he expects CPMA to remain an active participant in all future trade negotiations with other countries and regions.
"In 2018, CPMA actively shared our members' voices during advocacy meetings relating to NAFTA renegotiations," says Gordon.
"CPMA was very happy with the new USMCA agreement in relation to the produce sector, and we hope to see this deal ratified.
"Our government relations continue to be extremely active, working to advance the produce industry in Canada and across the world, with a view of improving the health of all Canadians," he says, citing encouraging signs that the federal government is finally coming around to the notion of developing a national fruit and vegetable policy, which CPMA has actively advocated for years.
"As the only G7 country without some form of national fruit and vegetable policy, the Canadian government has taken the steps to develop a food policy for Canada," he states.
"CPMA is honoured to be working closely with the federal government to address issues related to the production, processing, distribution and consumption of food," Gordon concludes, "and with the government's agri-food export
goal of $75 billion by 2025 set in place, there is a lot of work to be done to increase our competitiveness in the global industry."