Top 50 Packaging Ideas Expo keeps getting better
Canadian Packaging magazine's annual one-day trade show continues to excel at connecting packaging innovators with buyers. PMMI, the association for packaging and processing technologies VP Tom Egan joins the growing list of speakers at the event.
---
October 11, 2017
by Canadian Packaging staff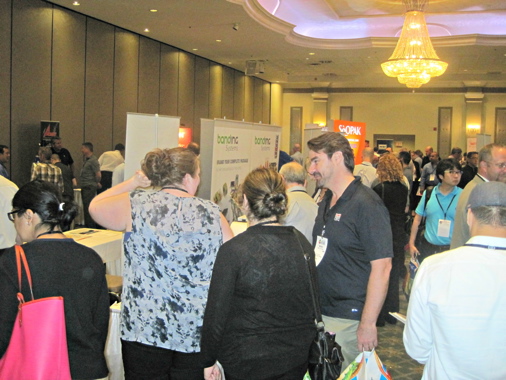 Come find your solution for your packaging needs at the 5th annual 2017 Top 50 Packaging Ideas Expo.
To be held October 24, 2017 at the Mississauga Convention Center just west of Toronto, the Top 50 Packaging Ideas Expo is a one-day table-top event offering people looking for ingenious packaging innovations a place to meet the packagers face-to-face.
Organized by Canadian Packaging magazine—serving Canada's packaging community for 70 years—the Top 50 Packaging Ideas Expo continues to be a successful venue for packaging solution buyers and sellers alike.
The event provides an open forum for discussion, networking, advice and, of course, display of the latest packaging and packaging-related products and concepts.
For exhibitors, the Top 50 Packaging Ideas Expo is the ideal event to meet top packaging buying decision-makers in a friendly, casual atmosphere to exchange ideas related to top packaging concerns such as:
Retail Ready Packaging
Sustainable Packaging
Food Safe Packaging
Innovation and Design
Communicative Packaging
Automation and New Technologies
The event will also feature special guest speakers:
Doug Alexander: director of engineering at Ippolito Group discussing how to integrate processing, packaging and machine automation;

Simon Small: vice-president marketing of Ultima Foods, providing insight on the crucial role played by new package designs in launching new yogurt products;

Laura Studwell: packaging industry marketing manager at Omron discussing the importance of flexibility in today's industrial market.
Tom Egan: vice-president industry services of PMMI, the Association for Packaging and Processing Technologies, to discuss the latest PMMI market research and plant operational excellence procedures.
To exhibit or provide sponsorship at the 5th annual Top 50 Packaging Ideas Expo event with your innovative packaging idea, contact Canadian Packaging senior publisher and show producer Stephen Dean via e-mail at sdean@canadianpackaging.com or 416-510-5198.