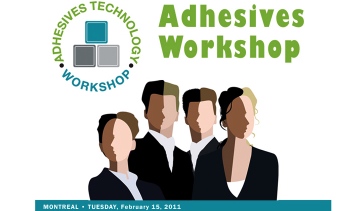 Serving the North American packaging industry, PAC – The Packaging Association is offering a half-day adhesives technology workshop on February 15, 2011 in Montreal.
Offering attendees a chance to become an adhesives expert to get that competitive edge in the market, the PAC will offer valuable tips about the use of adhesive solutions in packaging, bottle filling and converting applications.
Location:
Wyndham Montreal Aeroport
12505 Cote de Liesse
Dorval, QC, H9P 1B7
Agenda:
8AM: registration & breakfast
9AM: workshop
12PM: adjournment
Cost:
PAC member: $60 + $5 donation* plus tax;
Non-member: $99 + $5 donation* plus tax.
For each ticket sold, a $5 donation will be made to the PAC – Quebec Region Scholarship fund.
Event Chair: Isabelle Valois, Henkel Corporation
To register on-line; click HERE.
For more information on the PAC and how you can become a member, visit www.pac.ca.