Creating Next Life Solutions Conference
PAC-sponsored conference, Creating Next Life Solutions is a call to action for all North American packaging leaders to advance a 'world without packaging waste.'
---
June 25, 2012
by Canadian Packaging Staff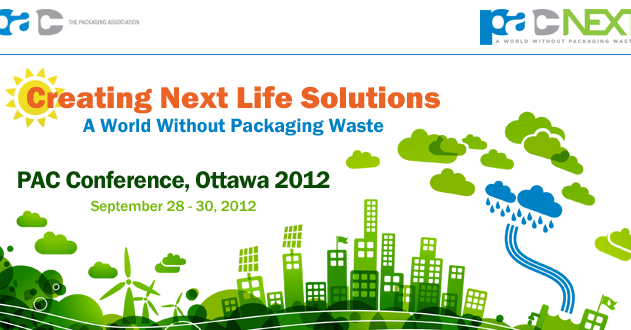 PAC – The Packaging Association is hosting its next great PAC conference – Creating Next Life Solutions: A World Without Packaging Waste in Ottawa between September 28-30, 2012.
The conference is a call to action for North American packaging leaders to advance A World Without Packaging Waste. For organizations involved in all aspects of the life cycle of packaging, PAC is calling this THE MUST ATTEND conference of the year.
The conference will examine a plethora of aspects of packaging life cycles including:
Creators of Next Life Packaging Solutions
• Waste, what waste? Tom Szaky of TerraCycle demonstrates how to outsmart waste;
• Recyclebank rewards you for your waste;
• Plasco converts municipal solid waste into an energy-rich fuel.
Policy that is Shaping the Landscape
• Canada – CCME (Canadian Council of Ministers of the Environment) and industry collaboration on packaging optimization;
• USA – EPR (extended producer responsibility) emerging in the US;
• Provincial, BC – a chance to create the perfect EPR model;
Economics, Green Jobs and the Future of the Packaging Industry
• Emerging markets, packaging growth and capital markets;
• The economics of recovery,  job creation, GDP growth, entrepreneurial opportunities.
Sustainable Innovation Leaders
• Target, Proctor & Gamble, Nestle, Havi Global and DuPont present their plans and solutions;
Sustainable Innovation – Product and Process
• Leading edge product and process innovations from paper, plastics and glass from leaders in the industry.
Although speakers, exhibitor information, and social and companion sessions are still to be announced, a tentative conference program has been released:

Day 1: Friday, September 28, 2012
9AM – Registration opens
10AM: Plant tours – delegates. (Limited capacity – register early)
12 Noon: Return from plant tours
12:15PM: Lunch & Welcome – Jim Downham, president & chief executive officer, PAC
1:30: Keynote addresses from 'Creators of Next Life Solutions'
Tom Szaky, TerraCycle CEO
Rod Bryden, Plasco president & CEO
Ian Yolles, Recyclebank CSO
3:15PM – 5:30PM: Policy that is Shaping the Landscape (Speakers TBA)

Canadian perspective
American perspective
BC EPR Update
6:30PM: Welcome reception
8PM: Chairmans' Gala – Dinner at Château Laurier
Day 2 – Saturday, September 29, 2012
7:30AM: Breakfast
8:45AM: Economics – The Future of Packaging, (Speakers TBA)
Packaging and Capital
Competitive Alternatives
Economics of the Recovery Business
11:45AM: Lunch
1:15PM: Sustainable Innovation Enablers, (Speakers TBA)
GPPS 2.0 – Global Protocol on Packaging Sustainability
Labeling for Recovery
PAC NEXT National Design Guide
The Nestle Way
DuPont Packaging Innovation Awards
Procter & Gamble Leadership
6PM: Dinner and entertainment at the Canadian Museum of Civilization
Day 3 – Sunday, September 30, 2012
7:30AM: Breakfast
8:30AM: Sustainable Packaging Product and Process Innovation, (Speakers TBA)
The Urgency for Sustainable Solutions
Havi Global Solutions
Sustainable Packaging Machinery Initiatives
Sustainable Packaging – Tetra Pak Way
Fiber
Plastics
Glass
Carton Council
12 Noon: Lunch and closing ceremonies
Accommodation
The PAC has arranged a discounted group rate for delegates at the Fairmont Château Laurier:
Standard room: $199
Deluxe room: $269
– based on double occupancy, additional person will be charged an additional $40/night. No charge for children under 18 sharing with their parents. Maximum capacity if four people per room.
www.fairmont.com/laurier or call toll free: 1-866-540-4410
To register for the PAC conference, Ottawa 2012 click HERE